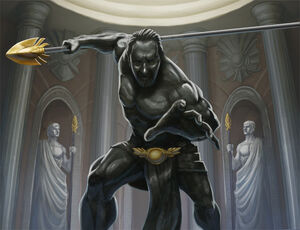 Description
Simulacrum of Dahrizon is the
fourth
boss encounter for
Scrolls of Dahrizon
(Area:
Rissa's Way
). As with all bosses, Simulacrum of Dahrizon can also be battled in a
raid
with 1 available level:
Personal
.
Loot
Lore
Enter battle:

Lore
The fire melted the sodding lot of them. Turned them into one big lake of rainbow sludge, and made everything stink of hot metal. The mage woman had to use her spells to cool the floor down so it was safe to walk on after.
We all breathed a blooming great sigh of relief, as the villagers said when the tax-collector was eaten by a bear. But everyone was bloody shaken as well. The others biting it, almost getting done in ourselves... Knocked us all sideways.
The mage even talked about pissing off and coming back with an army -- using it to clear the place out good and proper. But like Dauben told her, all the armies were off fighting the dragons. And besides, none of us wanted to have Johan and the other blokes die for sod all. We got given a job, and we were bloody well going to get it done.
So back we went, looking for the blooming scrolls.
There was no larking about. No one wanted to see anyone else die a sodding stupid death. We took it slow. And careful. They all did what I bloody well told them to. The mage chipped in too, using her spells to watch out for any magic that might go off -- like what woke that damn walking armor.
Any traps we could turn off or break, we did. The rest we marked out. No surprises, no bleeding accidents. We went room to room. Found the kitchen, the dining hall, servant's quarters. Searched them for traps then looked about for the scrolls.
Found something strange down in the dungeon. A big bloody sarcophagus thing. Seen those in tombs before, when I went in to nick stuff. Covered in funny writing, like the golem we smashed out in the courtyard. Tried to get it open, but the lid wouldn't budge no matter how much blooming muscle we put into it. Couple of the lads said we should smash it, but the mage didn't want to break it. Said that after we cleared out the castle she'd get some scholars sent in to figure it out.
For all we knew, the scrolls were inside that bleeding thing. But we kept going anyway. Still had the rest of the castle to turn over. That's when we came to the fancy place...
A gallery, I guess you'd call it. Filled with sculpted columns and shiny marble statues. In the middle of it all was a statue that stood out from the rest like a blinking sore thumb. Made from different stone. Except for its spear... That wasn't part of the blooming sculpture. It was made of metal. And it looked sharp.
We weren't falling for that trick again. Our weapons were up before the sodding thing started moving.
Victory
Lore
Never thought a statue could move so blooming fast. Like it was made of skin and blood instead of stone. But it broke like stone, when the spells and glowing swords started smacking it around.
Dauben got a good lick in -- hit its wrist where it was already cracked, and took the hand and spear clean off. The mage blew its other arm to bits with a glowing green thing. After that the statue just stood around like it didn't know what it was doing.
But we knew what we were at... Kept hitting it until there was rubble, and hit it some more for good luck.
Then the mage called out. She saw it before the rest of us. There, sticking out of a bit of smashed torso, was a bit of metal. The end of the scroll.
She snatched it up like a greedy little magpie. Pulled it open and started reading so hard I thought the blooming parchment would catch fire.
"One of the scrolls!" she said.
Course, we'd blooming well worked that out ourselves. Didn't think anyone'd go to all the trouble of hiding a scribble or two inside a sodding statue.
Dauben almost had to pull it out of her hands to get her moving, so we could clear out the rest of the castle. Didn't find anything else though. Just a few traps I handled. But it didn't matter. The mage still wore this great big grin. She said that with the castle safe, the king's feller would send in a load of scholars to help her go over every little stone -- and crack that sarcophagus thing open. Reckoned she'd find the others sooner or later, now that she had her hands on one of them.
As for the rest of us, it was meant to be back to Fallows -- and a nice cell for me. But Dauben... He had other blooming ideas, bless him. It was him who said they should just let me scarper, and tell that sheep-shagging mayor I'd got burned up along with all the walking armor. The rest of the lads were keen enough. Mage frowned a bit, but even she came round in the end.
So, there I was -- dead to the world, free as a sodding bird. Didn't know what to do with myself. Well, okay... I had a bloody inkling. Thought about going off and nicking something.
But then I got thinking... Times like this, with dragons swooping around and beastmen stinking the bleeding place up, we all have to do our bit, don't we? That's why I whipped my daggers out and got on the wall back in Fallows.
That's why I'm here now.
Reckon I could be useful to a bloke/lass like you. But I know Marcus is one of your lot now. If he saw me, he wouldn't bloody well see fit to march me back to Mayor Bloodwyn in irons, would he?
Good. Just wanted to make sure, as the doctor said when he stabbed the corpse.
So, what adventure are we going on next? If it's something with traps and treasure, I'm your girl...
Defeat/Flee
Lore
...smashed it right in the sodding face! And then Holt-
Yeah, it was a statue of a man. Right -- that's what the mage said. She said it looked like Dahrizon, from the paintings she'd seen of the bloke. Look, who's telling this bloody story? Shut up and listen to the rest! I'm nearly done, and you can ask all your blooming questions after.
Additional Info
Nightmare

- 4680 hp, 640 max damage